<!COMMENT Beginning Of Menubar! #"menubar.htm">


Earth's Angels


About Us!

Make Payment

Available Puppies
The Earths Angels Gang
&nbsp&nbsp&nbspHarry &nbsp&nbsp&nbspJesse &nbsp&nbsp&nbspMadison &nbsp&nbsp&nbspBella &nbsp&nbsp&nbspDeeDee &nbsp&nbsp&nbspDiesel &nbsp&nbsp&nbspTravis &nbsp&nbsp&nbspEmily &nbsp&nbsp&nbspLeah/Veda &nbsp&nbsp&nbspCricket &nbsp&nbsp&nbspErin &nbsp&nbsp&nbspMandy
The Scrapbook!
Sign Our Guestbook!
View Our Guestbook
Puppy Newsletter Signup
Our Reading List
Breeding Information
Healthcare Info Updated 03/05/22
&nbsp&nbsp&nbspSnack Food Bags New!
&nbsp&nbsp&nbspHeating Pad Burns
&nbsp&nbsp&nbspRaisins Toxic!
&nbsp&nbsp&nbspChristmas Poisons
&nbsp&nbsp&nbspDough: Doggie No-No
&nbsp&nbsp&nbspYour Dog Ate Glass?
&nbsp&nbsp&nbspLiver Shunt
&nbsp&nbsp&nbspCollapsed Trachea
&nbsp&nbsp&nbspLegg-Perthes
&nbsp&nbsp&nbspLux-Patellas
&nbsp&nbsp&nbspTail Docking
&nbsp&nbsp&nbspClaw Problems
Bereavement
&nbsp&nbsp&nbspJed's Page
&nbsp&nbsp&nbspDo Dogs Have Souls?
&nbsp&nbsp&nbspThe Last Battle
&nbsp&nbsp&nbspThe Rainbow Bridge
&nbsp&nbsp&nbspCremation/Burial
Email Earth's Angels
Our Favorite Links



Other Sites
Amazon Books/CD/Video
ACS Consultants
Allistar Kennels
Alluring Alpacas
Allstate Complaints
Earth's Angels Kennels
Keahl.Org
Political Data Systems
SendThemPacking!
Betty Stockdale






Holiday Graphics Courtesy Of:
The Boutique
Mountian Breeze
Hella's Multimedia
DogGone Graphics


<!COMMENT End Of Menubar!>

I'M JUST WILD ABOUT HARRY
"Harry"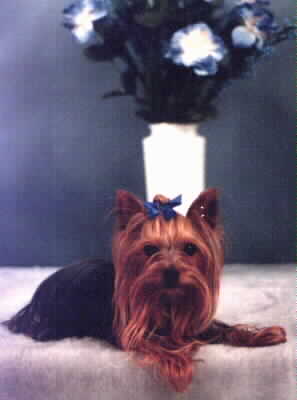 Harry is the son of Frankie's Little Dream and Fairytales Can Come True. He is a 3 lb. beauty who was 1 1/2yrs. old when we found him. A friend was selling her dogs because she had to move. I believe Harry could have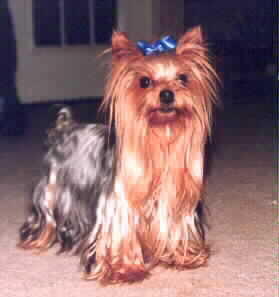 been a show dog and seems to have gotten the beauty from his grandfather, Champion Fairytales Madison. He struts his stuff and walks like he's got it goin' on! Harry and Emily had quite a few champions in common (not too close, though). We waited and waited for Emily to come into heat. We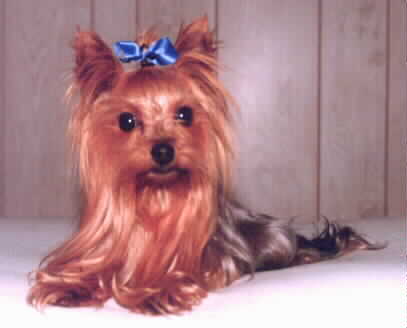 almost went through ultrasound testing. I was contacted by someone who wanted to use Harry for stud and when the female Yorkie was at my house, I guess the hormones were in the air. 2 weeks later Emily went into heat! Harry has had some beautiful babies.