Veda, An Angel On Earth
Little Leah, My Earth Angel
These are two of Harry's babies. I got these two as picks of the litter for a stud fee. I am trying to create my own line and these are the beginnings.
Veda means knowledge, coming from the books of knowledge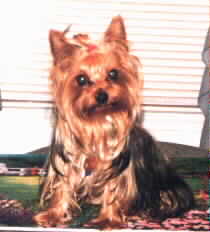 called the Vedas. She was born 12-28-97 and what a spitfire! She loves to get a bath and will sneek into the shower with me sometimes. She will go toe to toe with the big dogs and it's so funny to see her trying to play tug-o-war with the bigger ones. I've been told I should have had Brat as her middle name!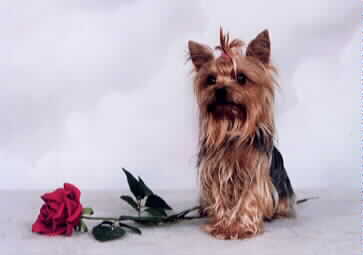 Leah is an angel. She is very mild and loves to go places with me. She was born 01-01-98 and a real sweetie. Neither of them is over 4 lbs. and I will be trying to find a small male with a good pedigree and fine yorkie features to be their mate.