The Earth's Angels Gang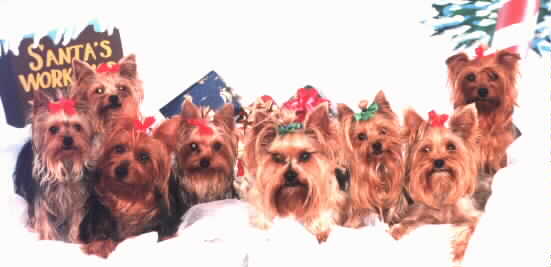 Before you meet the gang I would like to tell you how I made the decisions that created my extended family of canines.
My daughter was graduating high school and planning to marry, my son would be graduating the next year and planned to go away to college and I knew I would suffer some of the "empty nest" syndrome.
I decided that owning a cute little bundle of fur Yorkshire Terrier was just the thing I needed! So, I saved $25 every paycheck to get enough money to get one. For me, Yorkshire Terriers were better than that particular brand of patato chip, I couldn't have just one!
You'll learn, as you go through the stories of my dog family, how and why each of them came into my life.
| | |
| --- | --- |
| Mandy was my first, the matron of the gang. | Travis was my second, as a companion for Mandy. |
| Emily was from Mandy and Travis' first litter. | Harry is my stud puppy. He's absolutely beautiful! |
| Casey and Lacey are sisters I, mistakenly, bought from a broker. | Cricket has produced a litter with Harry, producing fantastic puppies! |
| Leah and Veda are half-sisters, sired by Harry, pick of the litters. | |